<![if !vml]>

<![endif]>
Back to Our Egypt Trip
El-Gouna is in a resort community located about 150 miles South of the Suez Canal on the Western bank of the Red Sea. There are hundreds of new resorts under construction from El-Gouna to at least 100 miles to the South. El-Gouna has a large marina with hundreds of yachts. It has hundreds of shops, stores and some bars.




A "rest stop" on the way from the Suez area to El-Gouna.

The Arena Inn. We stayed 2 nights.



The pool overflows into the lake.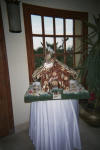 A gingerbread house, set up in the lobby, for Christmas.

A pic of some of the new construction at the resort.


Pics of the El-Gouna resort, showing the other resort communities around one of the golf courses.

"Ta Da"





This unique structure is called the "turtle house" and is right on the edge of one of the golf courses.