<![if !vml]>

<![endif]>
Back to Our Egypt Trip
Luxor is about a mile or two from Karnak and is also magnificent. Luxor was dedicated to the cult of Amun, his wife, Mut, and son, Khonsu. Built by Tuthmosis III (c.1479-c.1425BC) and Hathepsut (c.1473-1458BC). Added to, by Ramesses II, it shows more of his great ego, with some panels showing him conquering the hated Nubians and tying them together around their necks.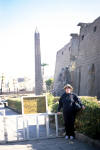 Marilyn standing near the first pylon at Luxor.


The first pylon with the story of Ramesses II's great victory over the Hittites at the battle of Qadesh in 1274 BC.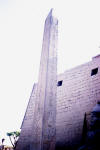 The other obelisk, and a few standing statues of Ramesses II, are now in Paris.


Some of the "open lotus" columns at Luxor.


Some of the papyrus bud, columns at Luxor.


The Peristyle Court was also added by Ramesses II.