<![if !vml]>

<![endif]>
The Atlatl World Open, Saratoga Wyoming,1982-1983-1985-1986
Larry contacted Rod Laird for information regarding the contests and his comments are included as of 21/April/'09. Rod was one of the do-directors of the event. Many thanks to Rod for his input and memory.
Here's an article entitled "The Resurgence of the Atlatl and Dart: How it all Began" by Leni Clubb. Just scroll down to the article on this link. http://www.indianpeaksarchaeology.org/Calumet/Archive/1999/Calumet9901.html
1982

A double rainbow near Flagler, Colorado.


The atlatl contest with one of Rod Laird's 6th graders throwing. The guy in the green shirt is Chuck Box. Rod says he was a local reporter then but is now a famous mystery writer. The 2 guys with spears and brown and yellow caps are Rod Laird and Bruce Bradley.

Camp Paleo (Formerly Cedar Creek Ranch) was an amazing get-together! In the evening, most of the participants would gather on this mosquito-infested ridge to listen to many of the top Paleo scientists of the time. George Frison, Marie Wormington, Dennis Stanford, Waldo Weedle, Bruce Bradley, Chuck Reher, and others, presented programs on the latest Paleo research. Sometimes there was venison cooking on a BBQ grill but there was always lots of slapping and spraying in the never ending quest to rid one's self of mosquitoes. Larry has only one picture of Camp Paleo because it began at dusk and the talks would last for an hour or two after dark so there wasn't enough light for photos. Camp Paleo was an unforgettable experience that taught everyone about the Ice-age hunters. Rod informs me that the city now sprays for mosquitoes and things have changed considerably.
---
1983

Some of the student participants. Jaime Capellan (Now a teacher in Nevada), Judd Campbell (Now manages the Wolf Hotel for his parents), David Teubner (now manages an IT business), Eric Johnson (Now an airport lobbyist), Miles Hawkes (Now 6' 5" and a civilian martial arts instructor for the British army), Joey Kipp, and

Jody Pittenger. He was one of the Kid's World Open and "big" World Open champions. Later, he became an electrician's mate and did top secret tours of duty on the USS Los Angeles, nuclear submarine. He was instrumental in developing the Navy's SAAAAD system (surface to air anti-aircraft atlatl dart), and worked on the unsuccessful and ill-fated experimental program to develop atlatl darts fitted with miniature tactical nuclear warheads. He also wrote the Navy's training handbook "Repelling Boarders with the atlatl". He's shown here in his dress whites ready for shore leave in a port we can't disclose. If you look closely you can just see the tip of his atlatl, which he carries in a spring-loaded sleeve holster. We aren't allowed to discuss the top-secret holstering technology for his darts, but we can say it's really cool. (Jody's info provided by Rod Laird)

Bob Patten's award winning style. Bob's an amazing flintknapper and has written several scholarly books on the subject.

Here's Leni Chubb (the oldest contestant). Rod says she was instrumental in carrying the Atlatl World Open idea to Colorado and then to the world, via the World Atlatl Association.

Miles Hawkes takes deadly aim.

Rod says he's in this picture with John Gilman and Scott L. and the shooter is now Rod's tax accountant.

The Awards table with Waldo Wedel and Marie Wormington guarding the "Takers of the Mammoth" trophy.
Waldo Wedel
1908-1996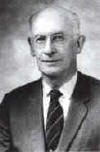 Waldo Wedel began his college career close to home, at Bethel College in North Newton, Kansas. In 1928 he transferred to the University of Arizona because in 1928 no universities in the Plains offered curriculum in archeology. At the University of Arizona, Wedel took coursework from "The Dean", Professor Byron Cummings, and also participated in fieldwork with him at Turkey Hill Pueblo near Flagstaff.
Wedel received his Bachelor's Degree from the University of Arizona in 1930. At that point, he decided to pursue a Masters Degree at the University of Nebraska. During the next four summer field seasons, Wedel gained a broad background in Plains prehistory by participating in excavations at Archaic, Nebraska Culture, Upper Republican, Lower Loup, historic Pawnee, and early historic Arikara sites in Nebraska and South Dakota. After completing his Masters Degree, Wedel remained at the University of Nebraska for a year to take additional courses in geography as well as anthropology.
After that, Wedel moved out to the University of California, Berkeley to pursue a Ph.D. in Anthropology. After obtaining his Ph.D., Wedel returned to the Plains as an archeologist with the Nebraska State Historical Society. On August 12, 1939, Waldo married Mildred Mott, an archeologist and ethnohistorian who had recently completed her Masters Degree in Anthropology at the University of Chicago. In the ensuing years, Wedel climbed the institutional ladder. He remained the Assistant Curator of Archeology until 1940, then rose to Associate Curator in 1949, Curator in 1950, Head Curator of Anthropology in 1962, and Senior Archeologist in 1965. Among other things, during this period Wedel conducted extensive field projects throughout the Plains, served as the Field Director and Party Chief for the Smithsonian Missouri River Basin Surveys Projects, held positions in a number of professional societies and published prolifically.
After retiring in 1976, Wedel continued his research and publication activities as a Professsor Emeritus. During his career, Wedel spent a good deal of time analyzing specific artifact categories and considering their functional and culture historical significance. Particularly noteworthy are his publications on antler scraper handles, horn tools, scored bone artifacts and an antler roulette implement used in pottery decoration. Other articles dealt with distinctive pottery types from Kansas, Wyoming, Montana and the Upper Missouri River valley. To a large degree, Wedel has been the primary source for studying the history of Plains archeology. Wedel also published a number of records pertaining to the history of Plains archaology. He has been referred to as the "Dean of Plains Archeology."
Wedel's publications, spanning six decades, helped define and shape research in Plains prehistory, both in descriptive and theoretical terms. Waldo R. Wedel died in Boulder, Colorado, on August 27, 1996. An era in Plains anthropological studies closed with Wedel's death. In many ways, twentieth century Plains archeology has been synonymous with the name Waldo R. Wedel. At the time of his death, he was Archeologist Emeritus in the Department of Anthropology at the Smithsonian Institution's U.S. National Museum.
References:
Plains Anthropologist - Journal of the Plains Anthropological Society-November 1996
Written by Students in an Introduction to Anthropology Class, Minnesota State University, Mankato, Minnesota
Edited by Marcy L. Voelker, 2007
---
Hannah Marie Wormington
1914-1994


H. Marie Wormington on archaeological excavation, 1938 (Parezo, 1993).

Wormington became the first women president of the Society for American Archaeology, 1967. She received awards from the Guggenheim Fellowship in 1970, Colorado's State Archaeologist's Award in 1977, an Honorary Doctorate from Colorado State University in 1977, and the Society of American Archaeology's Distinguished Service Award in 1983. Today we celebrate Hannah Marie Wormington, a scientist who was an indomitable foremother of archaeology to women. Wormington has always opened her field school to women, providing them the opportunities to acquire professional skills. Her dedication to working with amateur archaeologists, her ability to gather data on early man synthesizing the information into a readable text for laymen as well as scholars, has made her an important contributor to the discipline of archaeology.

Selected Works by H. M. Wormington:

1937 The Amateur Archaeologist. Minnesota Archaeologist 2(6): 1-6.

1962b A Survey of Early American Prehistory. American Scientist 50(1): 230-42.

1983 Early Man in the New World: 1970-1980. In Early Man in the New World. Richard Shutler, Jr., ed. Berkeley: Sage Publications.

Resoures:

Cordell, Linda S.
1993 Women Archaeology in the Southwest. In Hidden Scholars. Ed. Nancy J. Parezo. Pp. 214-15. Albequerque: University of New Mexico.

Frost, Janet Owens.
1988 Hannah Marie Wormington. In Women Anthroplogists: A Biographical Dictionary. Eds., Ute Gacs, Aisha Khan, Jerrie McIntyre, Ruth Weinberg. Pp. 291-296. New York: Greenwood Press.

Wormington, Hannah M.
1939b Ancient Man in North America. Denver Museum of Natural History, Popular Series No.4.
1947 Prehistoric Indian of the Southwest. Denver Musuem of Natural History Series No.7.






Hannah Marie Wormington was an American archaeologist known for her study of Paleo-Indians in the Southwest. She contributed greatly to the body of research of prehistoric cultures, among those were the Fremont of Utah, and the Uncompahgre of Colorado. She is still well regarded for her monographs that synthesize large and complex bodies of data.

Wormington was born in Denver, Colorado and educated at the University of Denver, graduating with her B.A. in 1935. There she studied with E.B. Renaud, who inspired her to pursue archaeology. This pursuit took her to France to research French Paleolithic. Returning to Denver from her studies abroad, she was hired by the Denver Museum of Natural History as a staff archaeologist. In 1937, she became curator of archaeology, establishing the museum's status as an important center for Paleo-Indian research. She remained at the museum until 1968. She received her doctorate in 1954, becoming the first Harvard female Ph.D. to specialize in archaeology.


Mimbres black-on-white pottery. (Wormington, 1956).

Her most significant publications were Ancient Man in North America (1939b) and Prehistoric Indians of the Southwest (1947). Both are considered classics for synthesizing the incredible amount of data on the subject of Prehistoric Indians.


Sites of Interest

Lindenmeier Site
University of Colorado
Southwest Indians


Seeing the changes in archaeology, Wormington stated, "We're becoming much more like anthropologists, with an emphasis on lifeways of people instead of just their material possession" (Frost, 1988)

Taken from then "Celebrating Women Anthropologists" web site
A series of pictures showing Larry's throwing style.








Jamie Capellen, Jodie Pitenger, John Gilman, and Larry.
(This photo series, by Marilyn Kinsella) Larry receives the first place Trophy.

Larry, his wife, Marilyn, and daughter, Chrissie.

Larry with his son, Brian.
---
1985


Some of the atlatls made by Rod Laird's 6-grade class. Rod says that the rattlesnake skin (with a choke cherry shaft) atlatl with garnet eyes, was made by Dusty Duvall (Rod's son-in-law) who was in the Army at the time. He won an award for his atlatl. The creative atlatl designs were an inspiration to all who participated.

Larry's shot at a Pleistocene bison. The target was made by some of the 6th grade class.


George Stewart and his throwing style.

George's double-barreled atlatl!

Just some of the 1985 award recipients. Rod says, the father/son team on the left is the Johnsons and Robin Farrington, of the Denver Museum, is in the front row, 3rd from left.
That's George Stewart in the back row, on the right. George was a gunner on a B-17 (I think) and was shot down over Germany and spent several years in a Nazi concentration camp. He died several years ago and was not only a great guy but a bonafide primitive technology expert. Rod had hoped to get some of George's experimental stuff (He had a garage full of his materials and primitive inventions) but George's widow also died and the whereabouts of all that material is unknown. Rod was hoping to add some of it to the Saratoga Museum collections.
We made life-long friendships at the Atlatl World Open and George was one of Larry's favorites.
---
1986

Rod Laird and his son Scott with co-director Bob Randall,

Rod and Scott Laird.

Bob Perkins wins the adult division.



Brian James wins the 1986 overall Atlatl World Championship. This was the new 5-year traveling trophy and Brian's name was the first to be inscribed on it's surface. Brian's another great flintknapper and has taught at the Rabbit Stick Rendesvous