<![if !vml]>

<![endif]>

(Photo Ray Fraser) On the way, we stopped by the Gilcrease Institute, in Tulsa, to photograph the shark's tooth club Larry made.
---

We also made a short detour to the Alibates Flint Quarries, North of Amarillo.
---
Then, On to Wintercount!!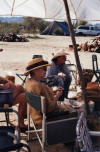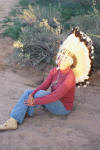 Temps in the upper 70s and lower 80s for 5 days ending with rain on Friday. Ya can't beat that!
---
Some of us were lucky enough to win the "duck man's" drawing and were treated to a sit-down, 5 course, meal. Tom pulls out all the stops to make a wonderful meal in the dessert.

We started with the cheese, plum sauce, and cracker appetizer.

Then, on to the salad with tomato, cheese, lettuce, and a light drizzle of dressing. Next, the duck drumsticks, Then the quail, Then came the duck breasts with carrots and potatoes. It was all finished off with banana chunks smothered with a chocolate sauce.
Oh, I almost forgot, a large bottle Merlot also enhanced the festivities.


Guests relax while enjoying the wine and meal, while being serenaded by Larry and his flute.

Here's the "duck man" himself.
THANKS TOM !!!
---

(Photo Ray Fraser) Our illustrious Wintercount '08 Instructors
---



The Tucson International Gem and Mineral Show. We stopped by for a few hours on our way to Wintercount.