<![if !vml]>

<![endif]>
Back to Letters From Greg
Letters written to Ray, from Greg Perino (1974 thru 1989)
---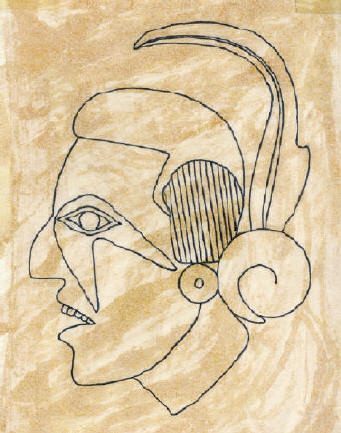 One of Greg's hand-drawn illustrations. The upper one is about 6X8 inches and the sketch is about 1 1/2 inches square.
---
July 10, 1975
Dear Ray,
I went ahead and traced the head we want to use as our emblem filling in the missing areas. Can you make us a stamp the size of the one you sent using this figure? The original was made on thin copper sheet and is 11 inches long. Quite a work of art. It shows the weeping eye, an earspool, a bun hairdo with a feather in it, and the upper teeth. Teeth also show prominently in later engravings on pottery in the Memphis area. This figure looks like Larry Kinsella.
I understand our contract went through and we are to go to Tulsa Tuesday to sign it. I hope they come through for one for Hugo Lake now.
If I can ever get thin copper sheet I would like to try and emboss similar figures. Mrs. Chapman did all those in the SPIRO MOUND COPPER book. She is the wife of Carl Chapman of the Univ. of Missouri. I would sure like to know how she got such symmetrical lines. I wonder if she cut the figure in wood then chased the copper into the grooves with a tool or did she simply press a tool into the soft thin copper over soft wood or newspaper and get this effect.
Not much new. It hasnít hit 100 yet but sure feels hot as hell. Iím not looking forward to spending the next month in the woods with this temperature, but I sure want to get this project over so we can start digging somewhere. It is possible we might stumble into copper figures or shell gorgets that are engraved. I know we will find more artifacts with Caddo burials than with any in Illinois. They got all their copper in trade from Cahokia and I have a hunch the Cahokians really socked them for it. Illinois Hopewell did the same thing with obsidian. They traded it to Ohio and kept little for themselves because they could get more. They were the middle men so profiteered from the trade rather than enjoying it themselves. I think at Cahokia they made the sheet copper and traded that for a lot more than they could get for raw copper. When I excavated at Cahokia I found two copper workshop areas where copper had been processed but very little copper is found as ornaments at Cahokia. All I ever saw was a few sheet copper beads, and copper hairpins sometimes called awls.
Sincerely,
Greg
P.S. the museum address is: 812 S. E. Lincoln, Idabel, Okla. 74745
---
NOTE) This is a letter Greg received from the producer of the Shell Oil film. In the film, Greg makes a stone axe and cuts down a tree with the axe.
Shell Center London
4th July, 1974
Mr. G. Perrino
Kampsville
Illinois 62035
Dear Mr. Perrino,
We have suggested to Professor __________ that we come to a private arrangement as regards remuneration, and I have been able to set aside in the budget for this purpose a sum of $500 for the preparatory work (including the bone harpoon) and a further $500 for your appearance as demonstrator. I trust this will seem reasonable: if for any reason you feel that it falls short of the demands we are making on your time, or does not sufficiently cover the incidental costs of materials etc you will need to provide, please let me know, and I will see what adjustment can be made.
Finally, we hope you will share our pleasurable anticipation of the results; we feel the experiment could prove most fascinating and worthwhile, and give the film a dimension it would otherwise lack, and a key to understanding that is fresh and unexpected by the audience.
With best Regards,
Yours sincerely, _____________
(Producer, Shell Film Unit)
P.S. May I suggest that you reply to ______________
A copy of your letter will automatically be sent to me. But the important thing is for _______ to have your comments before he meets you.
---
May 23, 1977
Dear Ray,
Not much to say. We started the dig at Hugo Lake and may find interesting material there. Last week (the first week) we found a Caddo child burial with two pots and two Woodland burials with no artifacts. We get lots of Gary points mostly of the Woodland period Ė and we found one Dalton so far. Also found 3 long-stemmed points of the 5 to 6 thousand years ago period. We should get several types of early points here as we still have two months to go. It is very windy as we are near the lake edge and the wind blows toward us. Most days have 3-foot waves. It will be cool digging all summer. Got to get some help and really get ground moved.
Would it be asking too much for you to make me two stamps to ease some of the form filling and marking
One would have the words -----Mahaffey --- in about this size. The line on the form is
CH- 1
1ľ inches long so anything up to that size is okay.
The other is for paper bags and burial boxes. It reads the same as above but should be around 3 inches long more or less.
If you want to get away from it all come on down. The fishing in this lake is fabulous.
Sincerely,
Greg
---
Dec. 29, 1977
Dear Ray,
Received the artifacts yesterday (Dec. 28) and am returning them today. I checked them and none are authentic all the way. The one you questioned has a new stem chipped on it. The drills are completely new possibly made from large broken points. The hoe was made from the bit of a large broken spade. It had been rechipped and ground in an effort to thin it. Such small hoes are usually very thin. Iím beginning to wonder if the whole sale was a set up job to get good prices for new or reworked pieces.
The article on Mr. Ludwig was very good. Imagine having enough dollar bills to lay end to end 12 times around the world. His is some accomplishment for a guy with an eighth grade education. I think years of experience ought to count as a degree in some professions. I am happy to have been able to visit the Jari project. It is a trip Iíll never forget for it showed me that one can have no preconceived notions about an area until he has visited it. Certainly was nothing like I thought it was just from reading books.
I have heard from a reliable source that _________ is in deep financial trouble yet looking at his expensive newsletter one would never know it. I would guess all the money he raises this winter will go to paying some of his debts and not on next years dig as he indicates in the newsletter. I was told he is also setting up a new foundation and eliminating the ________________________.
We hired a PHD. to do the paperwork. He doesnít like digging much cause he hasnít done much of it here He is good at getting contracts and grants. I think his salary will come from CETA funds. Still going to have the adult fieldschool even though it looks like we may get several contracts or grants this new year. We can always hire help if we need it. There are an unbelievable number of government agencies giving grants and contracts from the Corps to Endowment of the Arts and the National Science Foundation. Its just a matter of writing the applications in the right way. Some professors get their total lifes income from such places. (See last issue National Inquirer). Almost anything can be studied on a grant which can also pay travel expenses and furnish a first class vacation if you do like some and apply for grants studying ant hills in Timbuctoo.
Got to get back to putting all those broken pots together we dug last spring. Sure are a lot of them.
Sincerely,
Greg
---
Dec. 11, 1978
Dear Ray,
It was good to hear from you again. Had intended writing sooner but just didnít have time. Glad you got the trade beads. Theres just not that many and one day there wont be any for sale. All I bought was one celt of the Black Sand type. It is rare and the price was right. The guy came down on all his celts just before we left and I should have bought more of them.
Sure was a lot of fine modern flint for sale. Most dealers never identified the new from the old. We had an 11 inch rain while we were gone and some sites had been plowed. So when we got back Dorothy and I went to an Archaic site and found 40 points and bases, three stemmed hoes, and two pieces of slate gorgets. I kept one of the hoes and one point. The others were so rough they were not worth keeping. I keep hoping that some day we will find a complete gorget. The stemmed hoes were worn down to the stem so very little was left of them. My Caddo sites have not been plowed yet. In fact the beans have not been picked yet. Looks like we will have a mild winter so we should be able to hunt off and on most of the winter. It got down to 18 one nite but was clear and we are back up into the fifties and sixties. Still walking the woods for the Forest Service. Got half of it done so far so got about 35 days to go yet. Its been interesting going thru all those woods. We only found one site so far but we also watch for mushrooms
(Over)
and anything of interest. Found two places where somebody poached deer and left parts lay. This was before hunting season and some bones were of does. I have heard that some guys kill deer on order all year round. Wish they could catch them. We have a neighbor who feeds his hunting dogs deer bones and our dogs drag some of them home. They were fresh and caught before hunting season. An article in the paper mentions two people were caught poaching and it cost them $975 each. Nine out of ten never get caught. We only saw three or four deer before the season and none after it. All were does and no season on them.
We had 19,000 acres to walk so covered an area of about half a county. Mushrooms we found were frozen but then this kind grows again when they thaw out so keep fresh. I have picked up pine logs of all sizes in the woods for around my garden. They come in handy. Used some to outline my winter garden covered with plastic sheet. Lettuce in it now is about a foot across. We are having some for supper. Also got radishes and cabbages under there and all seem to be doing fine. Guess after the freeze in California vegetables are going sky high.
Not much new. I just finished an article for points and barbs concerning _________ who tried to get the Koster Site taken over by the state. Sure donít appreciate the kindness the Kosters have shown him. Now he wants to confiscate some of the property. Thatís gratitude. The kids at Kampsville told me he was broke but that he will hire 40 people next year to do gov. contracts. Guess that will bail him out.
Greg
---
MUSEUM OF THE RED RIVER, IDABEL, OKLAHOMA
FEBRUARY 1979 NEWSLETTER
The 1978 field season was reasonably productive. We excavated at the Williams Site across the river in Texas, and at the Bud Wright site, a sand ridge near the Arkansas line.
At the Williams Site we recovered twelve burials and associated pottery and uncovered evidence of a house with storage/refuse pits. The house was small and rectangular with a partial sub-floor. On either end graves of two children were found: a small jar with one and two small vessels with the other. Two elbow pipes and assorted trash were found on the house floor and a celt in one of the pits.
The Bud Wright Site had Archaic, Woodland, and Caddoan artifacts. This site had been occupied since Dalton times, perhaps earlier. We screened 32 ten-foot squares down two feet and found three Woodland burials- one with a novaculite knife, two Caddo childrenís burials with pottery associated, and many dart points, one over six inches long. There were also many arrow points Ė including gemlike Agees, a double-bitted flint axe, two Dalton points, a copper bead (probably of Caddo manufacture), potsherds, assorted cobbles (some used), flint chips, deer bones, and charred corncobs and hickory nut shells.
Work at the Williams Site has contributed to our understanding of Caddoan pottery and its sequence. Ceramics found last year were made between AD1600 and AD1700, some lasting into earliest historic times.
Work at the Bud Wright Site is important because of the long prehistoric sequence present. To date, the earliest points we have found were Daltons (about 9500 years old), but other equally old or older points such as Scottsbluff and Agate Basin, as well as fluted varieties, can be expected.
Currently, we are completing a survey of 19,000 acres of timberland for the US Forest Service. We have found one significant site about two miles upstream from the Bud Wright that may have about everything that the Wright site has. It is being preserved by the Forest Service. Surveying for sites on forest lands has been interesting and we have learned much about how these upland areas were utilized by early man. Here they tended only to hunt there, returning to their homes on the streams that were dependable the year round.
The 1979 Field School will begin Monday, April 2, at the Williams site where we have located one more house to excavate. If it is like the others, we may find child burails near the house and adults in a cemetery nearby. About the middle of May, when soybeans are planted, we will move to the Bud Wright site and work until July 14. If the fall is moist we will go back to the Bud Wright site October8 and work until November 16.
The fee (donation) of $50.00 will entitle you to stay as long as you like and also to come back later in the season if you wish. A camping area is available at the Museum on US 70 bypass (812 SE Lincoln) for those who want to stay in tents, RVs, or campers. Showers are available there too. Others will find our motels have reasonable rates and rooms always available. You will be expected to provide your own meals. We will furnish tools and transportation to the site.
This program is not meant to keep anyone with meager funds from participating. If you cannot afford the fee, but can furnish your own meals and housing, come as a work volunteer.
In addition to informative dialogs during the dig, we will also have guest speakers for some programs. An indoctrination lecture will be given Monday evenings which will present background information on the Caddo and a summation of work at the Williams and Wright sites. Below is an application for you to return so we can schedule the dates you can come.
NOTE Ė The week of April 15 Ė 20 is already full. Please choose another week

---
Feb. 3, 1979
Dear Ray,
Appreciated your call last nite. I was about to write the newsletter for the dig when you called so this morning I was able to incorporate the information about your group coming April 15 to 20 in it so that that week is closed or has been booked. That should keep________ out of that week at least.
Weather just above freezing and rain likely. Hope it lets up soon as potatoes and sweet peas should go into the ground later this month. Also I would like to do some surface hunting. We did good last Fall at one site and found 41 points, but only one I would keep, two worn out stemmed hoes, and an edge-preparation tool. It got too cold to go to other sites, so if it would warm up and rain we should find more points. I also want to look over some wooded sites that should have something under ground but it may be too wet for them. Last time I tried was in the spring and water ran into the hole just from the ground being saturated too much. When it was too dry we had to chisel things out. Just have to catch the right time of the year to dig some sites.
We need to find a new site to dig next year and have one across the river. I found a cemetery on it but donít know how big it is. It has a small mound that may contain important burials. We can get it for two years beginning in 1980.
Sincerely,
Greg
---
June 8,1979
Dear Ray,
Just a note to mask how long the flint centipede-like artifact is you found up in Scott County. The negative looks good but we want to make it full size for publication. Thatís one detail we forgot.
Nothing much doing. Raining so much we cant even get on the sand ridge to dig. The creek bottom to it is flooded and the sand is too wet to screen. We found a San Patrice point and the blank for a tubular bannerstone there two weeks ago. Sure hope it quits so we can get back to work. We probably will dig there thru July now to make up time.
Sincerely,
Greg
This tracing accompanied the note:

---
July 16, 1979
Dear Ray,
Tom ___________ evidently called after talking with you. He wanted me to give him a recommendation to his new job. We talked a good while but he never did tell me what his address or phone number was. Did you get it? If I dont have his address I can hardly send him a recommendation. Anyway shouldnít it go to the school or does he want it for his vita.
Finally got a good rain Sunday. Garden doing good. Second crop of corn beginning to tassle and third is six inches tall. We have had Japanese eggplants for a month but now the regulars are in. Cucumbers running out of our ears. Tomatoes real good this year as I used more hardy varieties. Peppers just coming in.
Guess by the time I get my vacation gas will be $1.00 a gallon. We want to go down to the Texas coast and on the way visit our
(Over)
son in Austin, then her brother in San Antonio. That much of a trip is about 80 miles out of our way. We usually go to Magnolia beach which is usually desserted at that time of year and we have most of it to ourselves. We get lots of crab and some oysters without a hassle that time of year. May be our last trip so better make the best of it. Good to take a route way around large cities. Large cities have gas shortages. We have had no trouble here and dont think we will. Guess they figure large town should have a transit system and leave the cars at home, but you cant have transit systems out in the country and keep gas supplies there. We have tried to cut back on use of the car simply because it costs too much for gas but this doesnít bother a doctor or lawyer, they still haul large boats behind travel homes down to the lakes on weekends.
Sincerely,
Greg
---
Nov.24, 1979
Dear Ray,
Thanks for the info on Ken_Bar, it was better that I went to Belleville where we found a large flea-market in progress. I found a box full of odds and ends beads mostly late glass necklaces from the early 1900s. , but in the box was some faceted and other early beads. They wanted $5.00 for the box but just glancing at what showed on top I gambled the $5 and bought the works then rushed off so she wouldnít change her mind. Got 300 large beads from before the Civil War mostly faceted, blue, green, and white glass, some porcelain beads, some Cornaline DíAleppo beads with green centers from the late 1700s, and one large wire-round bead of the early 1700s. Then I bought four old forks with bone handles for $2.25 each Later found a really early fork with two tines just like some we dug the week before from an early Choctaw Indian trash pit. Got it for .50
(Over)
cents. Never saw one before we dug then was lucky to see one at the market.
The pit contained all sorts of buttons including military pre-Civil war, various sizes of beads, thimbles, two silver ornaments, forks, knives, spoons, scissors, a candle stick made of brass, brass and iron conical arrow points, marbles, gun flints, some homemade some English, four or five restorable dishes and cups, part of a native Choctaw pot, and numerous iron items, even horseshoes.
Still got about a month but Iím liking the survey better and better. Found about 40 bass plugs, numerous trot-lines left in, all kinds of lead weights, fine driftwood of cedar and walnut, and collected clam shells for Parmalee.
Had a good time at home but got lots of work now. Saw Larry Ė he is not sure he can come down next spring.
Sincerely,
Greg
PS> I would retire if I could get part-time work. My boss wonít give me a cost of living raise even tho we make money on contracts. I proposed to work 10 months a year for the same salary. He never commented.
---
Feb. 22 1980
Dear Ray,
Is it possible to make stamps we can use on a map. We need two with letters fixed, and we need movable numbers for three spaces with a dash between letters and numbers. The two sets would be something like this: PS-137, and MI-256. PS stands for Pittsburg County, and MI stands for Mcintosh County, the two counties we surveyed in on the lake. We have 300 site to number and think it will take too long by hand or with transfer letters. If a stamp can use India ink it would work. Any in that is real black. The letters are permanent but the numbers change. The numbers run between 100 and 300.The size of the typing above or slightly bigger would be okay.Also need to stamp site locations. We could use a stamp with a 0 filled in for our sites,and one not filled in 0 for sites found before we got there. Make them round. If stamps canít be used we will do it the hard way.
Things are getting tight here as we near our deadline for the report and we aint half done. They just didnít give us enough time. We have the equivalent of six normal lakes in this one, the biggest in the country and they only gave us the same time as one normal lake. I may get ulcers trying to get this done.
(Over)
We were given a cache of 39 large blades found in Lake Texarkana several years ago. All are mostly black novaculite. They run from 5" to 71/4" long and 2" to 3" wide. They are big but not well made. I think they may be nearly completed knife performs.
Since Mahaffey Points are so scarce dealers are making new ones for customers but usually forget to tell them they are new. They look good but new.
Nothing much new, just wish this damn contract was behind me.
Sincerely,
Greg
---
March 7, 1980
Dear Ray,
Received the package okay and will use the stamps when we begin on the maps in two weeks.
Here is your copy of the Red Ochre article. I have that Wisconsin journal so figures the value of the artifacts as best I could from the photos. They are worth a minimum of $5,ooo. Whats interesting about these is that we may know their age in a round-a-bout way, and this group adds a birdstone to the assemblage. Okay, when I dug Archaic at the Pete Klunk mound 7 we found a couple of copper beads, copper fishhooks and 13 Gilcrease Grooved plummets. Then down near Hamburg a guy dug a burial with the same dagger typtknife and two Gilcrease plummets. Now this site in Wisconsin has dagger type knives and birdstones and copper axes and hairpins. We got a firm date of 908 B. C. for this group which is in the Early Woodland period but by stringing the information together we now have some idea how old the stuff is. The drills or knives seem to be Etley points which I know are of the same age. We did find a few potsherds with Etley Points in the St. Charles Mo. area and a bannerstone. The so-called drills are worn out points but are they etleys?
Please send bill to the Museum for the supplies.
Sincerely,
Greg
---
March 17, 1980
Dear Ray,
Enclosed are some of _______________ recent sales catalog so you can see how much perfect small bird points cost today if you want to buy them from a dealer. You have been getting bargains at ____________.
We had a knap-in Sunday with J. B. Sollberger the flintknapper from Dallas here. He is good and showed how it was done. We had a good turnout and had people as far as 200 miles to see him. I think everyone learned something. A lot of them now know you cant chip flint with fire and water. Still got weeks to go on this damn contract and its getting me down. Hope Pres. Carter cuts back on this kind of welfare.
We got a flyer from __________ and he is wanting to hire about 10 specialists for the next year just to do contract work not counting student field workers. He must have gotten a million dollars in contracts to hire that many specialists but his pay is nothing to brag about. The contract program manager gets the most at $17,000. Research Arch. At $11,000, Site excavation supervisor $850 month, Field lab assistant $700 month, Mortuary site specialist $700 month. Just an example. Cant see why anyone would
(Over)
get into archaeology at those wages. We paid $8.50 an hour last Fall and got by but guess _____________ is trying to get by as cheap as he can and keep most of the contract money.
Sincerely,
Greg
---
April 23, 80
Dear Ray,
Glad to hear you never got into the flood in Mississippi. It was a bad time to visit down there. Looked at the string of beads and the fluted Dalton. The Dalton is good and so are the porcelain and Corna DíAleppo beads (brownish beads). They date in the middle 1800s. The gorget made from the back of a skull does not appear to be old. The bone is old but I think somebody made the gorget recently from a broken skull they probably dug up. Usually the frontal is used for gorgets, not the occipital section. Fluted Daltons are unusual as the flint knapper intended to basally thin the base but hit it too deep and got small flutes.
I would guess there would not be enough difference in pay to go to Mississippi. Last week a representative of a big contracting Co. having 260 people asked if I was interested in joining them, sub-contracting for the museum, or subcontracting for myself. This sounds like the best approach. Iíll sub-contract for the museum and see how it works out, then if it looks like I can make more by going on my own I can always work on time off. They supposedly have a contract with Peabody coal Co. in Southern Illinois they might offer.
Still on the Lake Eufaula contract but should finish it in two weeks. We overran our time limit. The thing got bigger and bigger as we wrote up the report. Sure hope they accept it as is.
Next years fieldschool will be big. Just about everybody who came every other year anyway will come next year. Also had people stop in from various parts of northern Illinois who retired and they want to join. Better pick the week you want early before somebody
(Over)
else asks for it. We have a site on the Texas side but my boss wants one on this side of the river, so better get busy this Fall and look around for something closer.
Greg
---
Sep. 22, Ď80
Dear Ray,
Just got back from working on my house in Illinois. Got to get it fixed up, then decide to retire or sell it and retire in Austin. Got good contract offer from ____________________ a large environmental company. They gave me a small project in Illinois near Harrisburg doing a survey for Peabody Coal Co. and paid me $125 a day, $35 a day per diem, and 28 cents a mile. Gosh at that rate I would only have to work a month or so over my S.S. to make it. Things are not getting better here as they still donít believe in raises although they just got $25,000 grant from the government to help small museums meet their bills like raises. Iím not sure I will be here thru April but if I am Iíll dig then quit. Anyway Iíll have a lot of places to dig once Iím gone as we never got a chance to dig all I know of.
Also got a job offer from _______________ in Greenwood Mississippi. They will pay $21,000 a year which is great but I would have to get contracts for the museum to meet my wages and other expenses. I donít think Iím ready for that responsibility. Better that I retire and collect my S.S. even if its only a small amount.
Sincerely,
Greg
---
Nov. 3, 1980
Dear Ray,
Got your card on the new addition to your family, we wish you all the best.
Was down to Austin last week and gave the U. of Texas a program on Illinois Hopewell and I think they were impressed. I also stopped in and talked to managers of archaeology programs at two of the huge environmental contract firms that are there and may have worked up some sub-contract projects for the future.
My boss and I have agreed that I retire next February and that I stay on and do research work. They will hire a new director and contract archaeologist. Iíll work about 5 months for them and will have 7 months for myself so can go anywhere or take small contracts to make extra money.
Iíll try it for a year and if I can get more contract work Iíll probably quit, go back to Illinois, and do odd contract jobs. I just did one for an oil and gas company and charged them $195 a day, $35 per diem, and 28 cents a mile and they thought it was reasonable. Well thatís a lot of money and four times what I make in salary, so if I work for myself, I would only have to work two or three more months a year.
I guess we will have the fieldschool in April, but will begin March 30, 1981, so let me know what week you and your group want because another group is wanting an early week.
Sincerely,
Greg
---
April 26, 1981
Dear Ray,
Still finding a few burials. The early cemetery where burials had so many pots are still continuing and we found another with 13 pots and a pipe. Also 4 corner notched arrow points. Got two more to dig plus a later one next week but Iíll be by myself as that week is not booked except for _______ who comes on Tues. and Wed. every week.
We found two clay earplugs in the general digging and a cache of three celts, an adzelike tool, an abrader, a long hammerstone, a handful of flakes for making arrowpoints, and a round ended deer ulna tool used in notching points, and maybe chipping them too. This looked like an early cache if they were notching points, but anyway the cache was of unpolished celts and arrow point making material and tools all found in a house floor.
Postholes everywhere. Almost all early burials had a few arrow points from 3 to 6. Only a few late burials had arrow points but they were better and more of them. Also the early Caddo never used Ogllala chert while the later ones used it almost exclusively at this site.
The last pipe we got was a pretty nice one. Thatís three from early people and one from the later people. Looks like we will be down to two or three people after this week.
(Over)
until the week when the school from Springfield brings 8 kids down. Sure hope I can manage to get them to dig in a circle so I wonít have to spend more than a week shoveling the holes shut.
Sincerely,
Greg
---
May 8, 1981
Dear Ray,
Received the check, thanks much. About the Lincoln meeting- I think it is a Redskin project so if you know anyone who get the Redskin journal, it will have the lincoln date in it. I donít get it as about all I can afford to belong to is Central States and the Artifacts Journal.
Boy have we had rain after the dig. In about three days we got 7 inches of water. Went to the site yesterday and places had sunk so we filled them. Wound up with 38 burials. One had a turtle-effigy bottle but the feet were gone. I guess you got in on the best of them. I still have two burials I know of in the wheat and may try and get them if they cut it this week.
Sounds rough about the transportation in Chicago. It doesnít make sense when unions can shut down a town. Now the cab drivers want more. Sorry about _______ getting senile, but visit him once in awhile. Sooner or later he will sell you something at a good price.
(Over)
Forgot to mention the Lincoln show is at Lincoln Illinois near Springfield, but I donít know when.
Had a good talk with my boss and he got mad. We finally settled in my getting an extra month off so instead of his 7 months, Iíll work 6 months for $5500 and the house. He always told me the house rent was figured at $200 a month. At first this was too high but I never said anything since it is self-indexing with the cost of living, but now he figures it at $350 a month, almost double from two years ago. The house two houses down from us is bigger and newer and rents for $185 a month. Anyway like I said the rent is self-indexing. By my working 6 months a year I make the same hourly rate as last year, but he is mad at me for questioning his figures on what I should get over Social Security.
I think that after writing up the Clark material we just dug Iíll move on and maybe have my own fieldschool. Hell I can get contracts that will make me all I need. In fact Iím promised one this Fall that will me over $20,000 but the boss wants 20% of it as long as I work here. Iíll be on my own time but will need the truck and I guess the museum should handle the funds so I can get my cash when they loosen up and allow us make all we want and keep our S. S. Some business men sure have funny ideas about how they get money. To researchers and scientific people their system is often highly unethical.
Went to the dentist for a filling and he went up $5 over last year yet I make the same money. Our doctors now get $30 for an office visit. The vet across the street charges $65 to spay a dog. What the hell is wrong with these people. Iím selling my house in Belleville, then will try to buy one here with an acre or two. We can make it easy with our own house here and one or two contracts and some appraisal work a year. Also got to write booklets as two printers are willing to publish and sell them.
Sincerely,
Greg
---
Oct.24, 1981
Dear Ray,
Enclosed is an editorial describing policy in Oklahoma about how to treat burglars. Recently a number of burglars have been killed in homes they were robbing. Its open season on burglars and its legal. Some home owners shoot first and ask questions afterwards.
Monday I went with __________ to _______ Texas to look at a collection of points. It was staggering in size and quality. This guy is from a rich ranching family and he hired up to 30 people to dig burnt rock middens for him in the _______________ area. He has dug 200,000 points and kept 75,000 of the best. Now he wants to sell the greater part of the collection for $200,000. Individually the points could bring twice that amount. They are in a room 25 feet square and the walls are solid frames with hundreds of points 2 to 4 inches wide and 8 or 9 inches long. Then there are floor cases all around full of points, and cases of shallow trays an inch high each having more than a thousand points. There are cases in the center of the room, and boxes full of stuff. I have never seen so many points and such quality. Many large points are only an eighth inch thick. This undoubtedly is the best collection of Texas points ever assembled. Wish I was rich and could afford them. A doctor in Little Rock has bought some, maybe 5% of the more colorful pieces. __________ the high priced dealer has bought some and probably hopes to get a lot more as he can charge five times what he pays for them.
The guy owns about 6 Spiro Engraved shells he got from an original digger at Spiro and somebody offered him $35,000 just for one shell. All of the Spiro artifacts never sold for that much when they were dug. I canít believe what shell gorgets are bringing. _________ paid $3,000 for a gorget at the last ____________ show and this guy bought it from him for $5,000. If the Wisconson dealer has shell gorgets in his collection try to buy them and if any are from Spiro you got a fortune. Its getting so that I would be afraid to sell anything for fear I would not get what they are worth. I just canít keep up with current prices. Evidently too many people have too much money.
Iím still working on the point guide and really saw some nice examples in ________ Texas. Most points shown in the university books are crumbs or broken or worn out pieces. This guy had thousands of new or unused points. He had several hundred corner-tang knives and at least 20 preforms without notches. Went to the U. of Texas and they showed me what they had. The most interesting thing was a fluted point they found on a dig in Belize, Central America. It was a big point.
Dr Frison of the U. of Wyoming sent me classroom papers with descriptions and drawings of the major Wyoming points and this helped a lot. I was invited to look at the two university collections in Florida, and one at the U. of North Carolina. I havenít asked the others yet. We may go to Florida in December. _____________ is a point type collector and wealthy so wants to go with me and will pay all expenses. Iím sure he wants to buy local points while we are there to add to his collection.
(Over)
Wrote to __________ and told him I would give him 2 weeks to give me a plan on when he would get my collection back to me, and pay me the money he owes or I would sue the university and give the story to the __________ papers. Think that will bring him around? After all he has had the collection for over 15 years and some of it is getting valuable. Not only that but he should have returned the collections long ago and paid his debts too. All I want is whats mine.
There must be someone at ___________ I can write to, to get this thing settled so if you find out who it is let me know.
Almost got our first frost last nite. Got down to about 33, but should let up now for a few weeks. We are still getting loads of sweet peppers and a few eggplants. I should transplant a few strawberries now in order to have good bearing plants in the spring.
Sincerely,
Greg
---
Feb. 26, 1982
Dear Ray,
Here is a copy of the letter I got from England promising me $1000 for my part in the ____________ film for which , I signed a waver to any rights on the film The letter was much longer describing all the things they wanted me to do like make an axe and chop down a tree, make an adze and carve a wooden bowl. Make bone hairpins and a fishhook, and flatten a copper nugget into a sheet. We did that all largely on my weekends off and evenings, but ______ thinks I owed him all my time. Anyway he did give me $150 of the money left with him to pay me after it was done. I donít think he knew I got a letter from the ___________ people about the $1000 promised
(Over)
Maybe your lawyer friend can collect directly from ____________ but should not forget interest for all that time. And maybe he can get something for the anxiety I went thru feeling it would be impossible to collect from ________ as he told me he knew nothing about his giving part of the $5,000 he got from _________ for permitting them to film the Koster dig, including the $1,000 for me. But like I said most of mine was on my own time.
_______________ owes me mileage for part of the Carter site dig which I have no hope of collecting and some 50 days of weekends and holidays I worked as you well know when you visited me.
Sincerely,
Greg
P.S. The filming crew came by just before going back to England and asked if I had received the money from ________. I told them no, only $150 of it. They couldnít believe it, but couldnít pay again for what they had paid for once. The mans name was _________ and he said ___________ was given the money to give to me.
---
Jan. 25, 1982
Dear Ray,
Hope everything is going well with you and yours. Weatherwise you donít seem to be doing so good. Had a good week last week as I went to Loredo, Texas to check out sites on a strip mine where Cannel coal is being dug. A creek at the edge of the property had a number of sites on it right on the surface. Consisted mostly of burnt rock hearths Ė rocks in small piles or circles with flint chips and aborted preforms among them. Weather was 80. In fact I got a headache from the sun it was so hot. The hearths are strung out along the creek terrace in sparsely vegetated country so are easy to look at. Fifty or so years ago the ranch foreman collected the area and amassed a large collection. All he had to do was ride his horse around the hearths and pick up the artifacts. We got one good point he missed and lots of large scrapers and performs he didnít want. I all creeks running into the Rio Grande are like this there should be thousands of hearths around and maybe some have not been hunted. Wish you could have been there, it was really nice to hunt in semi-desert country. We saw many roadrunners, a few deer, a couple herds of javalena, quail, and a couple coyotes. The pigs or peccarys were the most interesting as I had never seen any before.
We had four sites to inspect and the U. of ________had suggested that two of them be put on the National register therefore the company would have to pay for digging them. I just couldnít see putting them on the register as they were all surface sites, had been collected from, and did not represent a long occupation period. It just donít seem right to "frame" a company into paying for something that is not really needed. Heck we got $2400 for the survey and I had a nice 6 day trip too. Travel and motel costs were about $600 but we still did pretty
(Over)
well. I could have had this survey on August but figured it would be too hot so Iím glad I held it in January even if the Museum gets most of the money instead of me.
You wont believe the flint down there. The creek was wall to wall with flint cobbles up to fist size but mostly less. Indians could make points anytime they wanted to. It might be fun to go down there next December and walk some of the creek banks as there are no houses around and its wide open ranches with nobody around. A guy could sleep in the truck. I brought back some cannel coal for carving. Sure polishes up well like slate, and is durable. Never saw a snake even thought it got hot, but maybe the low nighttime temperatures kept them in all day as it would be cool in the ground.
Dorothy and I went surface hunting yesterday in a Weyerhauser clearcut and only found 2 points and some Caddo and Choctaw potsherds. Somebody beat us to the site, but it was a nice warm day and fun. Next week Iíll go to two sites, one where we dug last summer, and another near the Arkansas line. Should find a few pieces then.
We are about to get the adult fieldschool schedule out. We will dig at a site where we screened many points and artifacts.
Sincerely,
Greg
---
Feb. 22, 1982
Dear Ray,
It should be pretty good by March 7. Try and get here over one weekend so I can be with you, then you can try digging on your own or digging elsewhere. You can stay in the museum room near the showers but you will need your sleeping bag.
I bought some pretty good points from a guy in Oregon, at a pretty reasonable price. They are Texas points but some are early. He is sending me a bunch of CSAJ. For the last 10 years at .50 each plus postage. They should be worth that. He also has two French Trade axes and he wants $60 each so I told him to send both of them. I may keep one and try to sell the other one. I have a small one now.
I canít believe the prices quoted on pottery these days. Bottles halfway nice- $2,000 each from ______________. He has a bunch of doctors buying from him so thatís who you have to compete with. The cannel coal gorget you mentioned is sure priced high. It must have all kinds of engraving on it. Sure getting hot here. Damn nectarines are blooming. They may freeze next month. Got half the garden spaded and should have the rest done when you get here.
Sincerely,
Greg
---
March 18, 1982
Dear Ray,
Hope everything okay up there. Weather is fine here, It warmed up after you left and I got half my garden in. Yesterday (Thurs.) I went to Hooks, Texas near Texarkana to look at sites a guy had reported. He had some mostly individual house sites. Two were interesting in that he had got trade goods. One had a pipe like those found in the Tunica Treasure in Mississippi and the other had an iron hawk bell and a glass bead. These were near the trading post the French established on the Red River north of Texarkana. Not much for us to do there.
When I got home I had a packet of papers from _________. He had written to the ____________Co. in England about my claim that he owed me $1,000. What happened was that the _________Company had negotiated with me and I was to receive the money from _________ for my time and for signing the waver. Then _________ convinced them that he was paying me a salary so that he should receive the money and pay me wages which he did. But neither thought to mention it to me. _____________ found a way of getting my money in doing this, but who is going to pay me for the overtime on weekends and evenings. I put more of my time in than _____________ Ďs time and I feel I should be compensated for it. It is not my fault I did not know I was to work on _________ís time. I can send a copy of these papers if your lawyer friend would work on this project. Iím getting tired of being the goat. Both _________ and the company apologized about the omission but how about the time I had involved.
Sincerely,
Greg
---
Jan. 14, 1983
Dear Ray,
We sure have had a short winter so far. It was in the 70s yesterday so went to a new site to probe for burials. Found 4 that should be good. We will have to rent an acre of wheat to get at them but will also have house sites to excavate and maybe we will run into other burials in the process. The site is right next to the highway ___ bridge on a long terrace. We cross there to go to the _____ site. This one is on the Texas side and of the earlier Caddo like at Clark where we got corner-notched arrow points. Hit a rock in one that may be a celt.
The _________ Site has not been double-cropped this year so Iím going out this afternoon, since its warm, and see if I can find more burials where we got 3 when we finished. I think the three were part of a larger cemetery but never had time to check it out. It was very late and if there are more burials, some may have early trade goods associated.
Then of course if we run out of dig at these two sites we can always go back to the __________ Site in the woods which was pretty good last year. We got 5 Daltons in one area and 2 other points of equal age. Also five burials, one with pottery.
Got the new Central States Journal. A gal at ___________ rakes me over the coals in it. Seems like I injured her favorite institution for which she is the assistant professor. A year or so ago she was only a student. Anyway I had no idea she was in charge and I was writing about someone else. She got equal time in trying to put me down but the editor put in an editors note which I think will even things up. In a letter I ribbed her about doing contract work like a business and mass production. Boy it really riled her good. The fact is they do take too much time to uncover features. I think they are trained to be frightened to dig so they take more time than necessary to get a job done.
__________________ the archaeologist for the ________________ department got my 12 manuscripts back from _________ and is editing them for publication. Seems like the ______________ people are using the manuscripts for references, etc. and not letting other researchers in on the new information. What bothered me was when some _____________ people used them they lifted some of the newly discovered information and published first when they found a similar situation thus getting credit for the discovery. ________ will be listed as co-editor. He will have earned it. I donít know what ______________ will do with the Carter, Hacker, and LíOrient Mound reports. I canít understand why he doesnít publish them and get publicity that way instead of publishing a magazine in a field that is saturated. Every year a new archaeology magazine, newsletter or whatever is started and most of them rehatch the same information obtained from new reports.
(Over)
I need to begin the annual newsletter for the fieldschool. Began work again Jan 3 for 6 months. Cleaned out the shop and room with the beds. Anyone staying there will need their own sleeping bag and air mattress as there is no beds now. We are running short of room for storage. There is plenty of room in the shop since I cleaned it up.
When I went to Texas over Xmas I went up on the hill where the flint is and brought back slabs big enough to make spades. I want to see if Larry and his buddies can make them. Also brought back big blocks of flint so they will have something to work with evenings.
Prices are still zooming for artifacts. Heard that a small monolithic axe sold recently for $50,000. In that case the Cahokia spud I am trying to sell for the owner should be worth at least $30,000 as they are nearly as rare. We are asking $16,500 cash for it and had a buyer, but before I could get it from Illinois the buyer bought 8 frames of Texas Points from ________ for about $80,000 and is temporarily out of money. He says he will buy it in 6 months. Meanwhile the spud is here and anyone coming up with the cash between now and then can buy it. It is the best I have seen anywhere and will be worth 25-30 thousand in a year. Where else you going to get one. This is the only real one available today and there canít be more than three or four in private collections but this is the only one from Cahokia. It was made in Tennessee or Georgia and was traded up to Cahokia by the Indians. It is not a Cahokia artifact as such. About four were traded to the Indians at Spiro and one of them is at Gilcrease, but they are smaller. The Cahokia spud is 18 Ĺ inches long and has a 1 inch stem. If I had the money I sure would but it as it is not replaceable.
The guy in Texas who was paying $5,000 each for large shell gorgets had to sell some and all he could get was $4,000 each which is still too high for these things. Some were not well preserved. They used to sell for less than one hundred dollars 10 years ago.
Got to go, see you if you can make the dig.
Sincerely,
Greg
---
Feb. 11, 1983
Dear Ray,
Glad to hear from you again, sure hope you can get away and come down here for a week. I heard from John______ the other day and he said the two of you would not be down. He wanted to know about a beaded club he has he wants to sell. I donít know much about beadwork or historic stuff so could not help him. Anyway, Larry called the other night and he was looking for somebody to come here with. I told him I thought you were not coming so donít know if he got in touch with you or not.
We have the first two weeks full full. I told Larry he might have to pick the 3rd week if he could find somebody to come with, or the other weeks. Iím hoping to dig the rest of the cemetery at the Williams Site we only took three burials from and also the few burials I found at the new Holdeman Site also in Texas.
Iím still interested in trying to get a rock midden in Central Texas to dig. Several groups are digging them commercially and are finding many early points in the bottoms. Five to six inch knives are not uncommon and some collectors have shelves full. We are going to Kerrville the end of March to check out some of these collections and maybe get a part of one of the sites to dig next fieldschool. You canít believe the flint they are getting. Even arrow points up to 3 inches long.
Sincerely,
Greg
(This note was in the margin) "One guy made $31,000 digging last year in Texas."
---
March 10, 1983
Dear Ray,
Just a note to let you know Larry wont be coming down this year but Charles Laster will. If you intend on coming get in touch with him. Iím not sure but he might stay two weeks depending on how things go. I sure got plenty of flint for him to work with. I got about 100 pounds for the group but only one of the knappers (Charles) will be here to use it.
Did a guy from Bell Telephone get in touch with you? He wanted to come down but not by himself.
Iím kind of looking forward to digging the new cemetery as it could hold several surprises. It might be earlier than I thought and we should get a good many artifacts with each burial. I found a piece of pipestem of an early type so we may get into some early graves.
Still getting points sent to me for authentication from all over the country. Last week a guy from California sent two points he was not sure of. They were well made after the Simpson point which is not fluted, and is found in Florida. Both these were fluted and one was marked Ohio. Somebody created a new phony fluted point looking like a well known early point of Dalton age and probably sold a bunch of them. A guy came up from Houston with a van load of fakes. He had a small antique store with authentic African and Meso-American art and had traded it all $130,000 worth to the guys who sold the $800,00 worth of fakes to the guy near St. Louis I checked six months ago. You would think these guys would check out the stuff before buying or trading for it. When only one Spiro or Cahokia type pipe is available to buy in ten to 20 years how can you expect to buy as many as 150 in 3 years. These guys sure donít know their percentages.
Sincerely
Greg
(Over)
PS. Gave a talk to the Shreveport Museum last week dazzling the collectors with mound excavations in Illinois. When it was over the president of the society gave our museum a find Dovetail point found on Cross Lake the Shreveport water supply. This is way out of its distribution range so we were happy to get it. I know of another found near Longview, Texas some 40 miles farther west. This is Scottsbluff country so guess some northern Indians were visiting down there 9,000 years ago.
Going to the Caddo Conference 11-13 at Natchitoches, La. And will swing over to Longview on my way back to se what they have been finding the last year since I was there. Then the last week of March we are going to look at a bunch of collections in Texas where extremely fine points are for sale but usually for more than I can pay. However they are also finding some unusual early points below the middens, some not reported before.
---
April 1, 1983
Dear Ray,
Got your note, sorry you canít make it this year. Still working on the point guide and got nearly half of the drawings made. Should have them done by next January. Been saving for publishing which I understand will be high.
Went to the Williams Site last week with _________ of Paris and we found a good-sized cemetery. Anyway ________ came down on a big red carinated bowl with a burial and I hit other burials around it so should make a good collection just from this group. We will also dig the site near the bridge which is the same people 300 years earlier. They will have more artifacts with them.
Went to Texas last week to see a collection that was for sale down at Kerrville. The guy I went with paid all expenses. He buys point types and really got a buy from two guys. One was a large corner-tang and the other had either a large Eden or Scottsbluff and a small Scottsbluff point he found in the desert. You canít believe the chipping on that Eden. Its like carved perfect. He bought a Plainview and a large Missouri knife for me for helping him get authentic things. We went by a hock shop one of the guys told us about that had just gotten 21 points in and were for sale. There was nothing my partner wanted so I bought 4 pieces. Should have gotten more but was afraid to spend the money. Wish I had now. Two points were outstanding. One was like a large North point very thin, that was 3 inches wide and 5 1/8 inches long made of amber Knife-River-like flint. The other was a Nolan point with a needle tip and beveled stem edges that cost about 75 dollars from dealers. I got it for 15. The big point was priced at $24. It sure would be good to have enough money so as not to miss bargains you wish you had bought after
(Over)
you got home.
Iím negotiating with a guy down in Marshall, Texas about working for their museum six months a year with them furnishing me a home. They have a small museum and want to upgrade it. Marshall is about 30 miles west of Shreveport in good southern country and a good many points are found there. When I gave a talk several weeks ago at Shreveport their society president gave me (for this museum) one of the finest Dovetails he found at Cross Lake their water supply I think it was made by Scottsbluff people. Another Dovetail even better was found at Longview Texas 40 miles west of Shreveport. These two are the farthest southwest I have ever seen a Dovetail point. Two have reported for Texas. You got to see them to believe them.
The Marshall, Texas area has the kind of Caddo we dug for Gary that one day we went south across the _______ River. It doesnít have much red pottery and seldom any bone from burials but they have more points and celts.
The first group to come is Lincolnland College, Springfield, Illinois, and they will be here Saturday night. Got to go down today and stake out the squares. First thing we will try and uncover a house pattern and some refuse pits and later in the week we will dig two burials. Iím saving the Williams Site burials for when the groups are smaller like 4 or 5 people. There will be 9 from Springfield and that too many to keep track of. We should dig $5,000 or more of pottery this year yet I canít get a cost-of-living raise.
Saw the biggest Texas point I ever saw down in Texas graded out by a road grader that broke it in half. It was 4 inches wide, 18 inches long, and Ĺ inch thick. It had corner notches and a rather small stem for its size. Man that is really a Texas size point.
I make about $50 a month authenticating artifacts and identifying them also. Some people just want to know what they got. Usual charge is $10 plus return postage.
Sincerely,
Greg
---
May 11, 1983
Dear Ray,
I guess for all intents and purposes the fieldschool is over and we did all right. Got into something much like the Clark Site yet different. There was not as much red pottery and much of it was small. We got some new types. There were 20 burials and four storage pits. Pits were from 5 to 9 Ĺ feet deep and 3 to 5 feet wide. Nineteen burials were early and one was late to near the historic period. It was of a child having a turquoise pendant and shell beads around the neck. This is the third instance of turquoise found in this area.
There was a small mound on the site at one time and we dug into the remains finding many postmolds and 4 burials or graves made before the mound was built. One of the males had 20 pots and 24 needle-tipped serrated points with it. They are an unusual type being side-notched and having drooping corners. Another male had 14 similar points and one had 3. Not many males in the group.
We had the farmer plow 10 inches deep so maybe other things will turn up. It was dry and dust yesterday beginning to rain last nite. Itís still raining today and promises to rain again Thursday, so Friday I should get down to the site and surface hunt it. Many collectors are also eyeing it so may not get there first although the owner has said he doesnít want anyone else hunting there.
They are planting beans here soon but we can get back on this Fall when they harvest the beans and dig if we find anything else to dig. Should be more burials.
We lost a week when my mother died April 20. Sure am sorry she died so soon having only turned 90 the Sunday before. It all began when she fell down the basement steps and got cut up pretty bad and bruised. Her old doc was a quack and made some bad judgements that kept her in the hospital much longer than normal. He has since retired. She never recovered from the fall entirely, hurting internally, something her doc could not diagnose.
We got about 125 pots, two pipes with burials and one in a postmold. Many pots were broken so got a big job restoring them. Should be interesting to see what is there.
Greg
---
Feb. 27, 1984
Dear Ray,
Yes I knew Dr. ________ years ago when he worked at the state museum. I had no idea where he was in recent times. The guy was hell on pot hunters but then so are all the students of _____________ at the U. of Chicago. They were the worst in the country and it took two generations to get rid of the dislike for amateurs by pros. These days they need the amateur to help influence politicians to get them funding. It burns me up. Here in Oklahoma the _____________ has about ten people and the budget got cut by $35,000 so now they say they have no money to do salvage, etc with. Hell they still got a bunch of salaried people sitting around. Why not take them in the field and do the work. They always want to hire extra help. Also there are a lot of amateurs who would like to dig with them but they discourage this preferring to get the money to hire help. Sometimes I think college takes the brains of some kids and substitutes a computer programmed to the one accepted way of doing things.
Got a letter from ____________ and she is about ready to leave _____________. She donít say so directly but I think she has had all she can take from ___________ as he is head of the department. I know she could do better elsewhere and I will encourage her to leave for a school where she is the top person. She has spent months at the mouth of the Amazon studying skeletons found in the big pots like we found when we were down there, and she is going back this Fall. If she is lucky she might get a job at the U. of Brazil as she is working with some of the people there.
(Over)
Had some bad news last week. My mother-in-law died and Dorothy had to ship her to Virginia so she could be buried with her husband. Snow is threatened all the way from Tulsa to Virginia so it might be a rough trip flying. Dorothy left from Tulsa and her mother was brought to the Dallas airport for shipment. All the old folks are gone now on both sides. My mother died last April.
We were going out this weekend to dig or at least look for burials but it rained all nite Sat. and all day Sunday. I found one at the Clark Site way out in the field but it is in wheat and I have not been able to find the owner to ask if I can dig it. Iíll measure it out and try to find it next fall when crops are out.
Iím cleaning up the pots and gluing them together we got from the Holdeman site last spring. Sure are some new types in the bunch. They seem to be just a generation or two, earlier than the early Clark Site burials with more plain pottery and conical bowls and less jars. It will help us identify pottery from about A. D. 1300 to A. D. 1450.
Never got my point guide manuscripts back from the proof reader and typist yet. Sure want to get on them and add the point drawings so I can get the works to the printers as many people are asking for the book.
See you soon,
Greg
---
Feb. 13, 1985
Dear Ray,
Just a note to let you know the point guide is promised by the printer about middle of March.
Also Ė You know Iíve been studying fake relics for some time and have been appraising them for authenticity too. Recently a large western Museum sent plane tickets for me to come out and check out a large collection recently donated to them. From the photos they do have some fake spuds, pipes and monolithic axes. Fakes cant be given as authentic relics to a museum for tax purposes if they are evaluated as authentic pieces. The IRS is clamping down on this as many collectors who got some fakes try and get some of their money back by donating them for full cash value.
(Over)
Since Iím about the only one in this field, and when other museums know about it, Iím likely to be doing a lot of traveling around the country. I have set a pay scale of $150 a day plus expenses and they never flinched. Maybe Iíll be earning some money now so will retire from the Museum in July, as it would conflict with work at times.
Sincerely,
Greg
---
May 28, 1985
Dear Ray,
Just a note to say that my work time is about up. Been putting pots together the last month, some are works of art. Had an offer from the Field Museum to come up there and give 2,6-hour programs on a weekend but turned it down. We would have little left for expenses. A better deal when I can go to big museums and check out their collections for fakes. Got to go to the Fort Worth Science and History Museum in two weeks to cull theirs out. Did a partial for Denver but need to go back. Also did the Colorado Historical Society Museum. They didnít have much but about half was bad. I think Iíll send brochures to the major Museums around the country and offer to check out their collections for a fee and expenses. That way I can get to travel and see some pretty nice things. All museums need such a survey but its hard to get them to admit they got some fakes.
Book not selling well now but maybe after the book review appears in CSAJ., Indian Artifacts Magazine and American Antiquity things will pick up. Barely making interest on my investment so far.
Got another jolt from _____________. He had offered to sell me the house we lived in for $32,000 which was too high so we bought a better one for a little more and half more room. Now I find out he finally sold it for $20,000 and never offered me a shot at it. Some guys just donít ever think they owe their help anything. I wore out a riding mower on this place. Half the tools here are mine, I used my pickup for a year before he got us one. I cut the lawn often on my days off but these people never think about that. I think Iíll feel a lot better getting out of here in July and Iím sure going to tell the new help what they can expect from their job. In Illinois a bosses word was good,
(Over)
at least all I had, but in the south most just give you the glad hand, pat you on the back but never keep their word or notice extra efforts on their behalf. This is not baloney, an article about it has been published indicating bosses in the south donít mean what they say.
Maybe in the fall I can get out and dig a few burials. So many new people are getting into the game its getting hard to find anything anymore. A lot of women are out there surface hunting. Half the hunters on the lakes are women. Few of them know what they have but they pick up things anyway. First thing I need to do in July is add new shelving everywhere. We need storage room. Got to set up the shop too. Got to add more power lines for the tools. The garden is slow this year as it rains a lot and is cool at nites and some plants need 70 or better to grow well.
Also would like to begin on Volume 2 of the guide. Texas put out a book on stone artifacts and it costs half of mine but is one-third the size. They finally settled on names of some 20 points I could not use because they were undecided what to call them. This gives me 20 more types from Texas, in Vol. 2. Then I can travel and find other points just named or some I missed in Vol. 1. Those who got one of the guides like it. There are some typos mostly from the typist not reading her own typing, that consists of missing letters. About a dozen words have a letter missing which we did not pick up on in the proof reading. It will cost $17 a page to do these over in the second printing.
Guess I had better get back to gluing pots.
Sincerely
Greg
---
Sept. 11, 1986
Dear Ray,
Finally got an unattainable artifact, a Kaolin flint spud. Got it in an unusual way too. Awhile back a guy called from Houston and said he wanted me to look at an artifact he found on the east edge of Memphis while they were bulldozing at a subdivision. He sent a photo and I knew what it was immediately. I noticed it was dark and had been burned at least on one side so was afraid it might be flawed by fire. He wanted to know its value and I told him if burned as much as it appeared in the photo it ought to be worth $650. Better ones cost more. He wrote back and said it was not burned as bad as in the photo. I said put your price on it and send it to me for inspection, maybe I can find a buyer for you. He sent the piece and said he wanted $800 for it. Well it was better than the photo but had been burned on one side and it had a small nick about the size of a fingernail on one side of the edge. Sounded like a lot of money but it was a nice one. had lots of curve to the bit, and barbs and where else would anyone get a Memphis Kaolin Flint spud. This was it, so I bought it. It is chipped then ground and polished all over till almost all the flake scars are gone. One side was burned and I think this was due to ceremonial burning. I noted at the Gilcrease collections from Spiro and Illinois bauxite pipes, spuds and maces were also burned then some objects were put into graves like the pipe I found at the Schild site that
(Over)
had potlid popouts on one side from fire before it was buried with a large male. The big frog effigy pipe found at the Gahagan Mound near Shreveport also had popouts on one side then was buried in a shaft tomb with the chief. At Spiro the garfish monolithic axes and an ordinary monolithic axe all had been burned. Some maces had been darkened like mine, with fire. Some of the relics crumble and some only get popouts or are just smoked like mine. It seems these high tech artifacts are subjected to a ceremonial fire before being put in with a burial, if it is not destroyed by the fire. I love polished flint and this is a dandy plus having a good provenience location in an important large city on the Mississippi. They are early Mississippi artifacts and most of the pottery and relics from the Memphis area are several hundred years later.
Sincerely,
Greg
Note) This drawing accompanied the letter:

---
April 4, 1988
Dear Ray,
Thanks for the lift on authentication advertising. Maybe it will get a few more customers. Those I have feel they will be able to sell their collections if my authentication slips are with the artifacts. About the spades Ė send them registered thru the mail and insured for $2,000. They will arrive okay. At times I have to insure packages for 5 or 6 thousand dollars and never lost one. Doc will pay mailing costs. Registered mail is less than regular insured and they take better care of it but is has to be $500 or more in value. Less value is sent by regular insured mail. Send them to my address as doc is not home to sign for them.
Sincerely,
Greg
---
Jan. 23. 1989
Dear Ray,
My how times change. When we were digging in Illinois we had one of those small John Deere 40 tractor dozers you could pull around with a pickup truck and we were severely criticized for using it in the field. It save d lots of back breaking work in moving dirt and removing trees up to 6" in diameter, and bigger ones that had been cut. We used it for backfilling and cleaning up too. Now a company is making bigger stuff for the archaeologists. I remember at Cahokia when they used Turnapulls, those huge highway building machines, dirt movers that could scoop up a truckload of dirt at one scoop. I remember them taking two feet off the village to uncover subfloor house floors and cutting pots in half that were on those floors. I never did that or would have been so dumb as to do it. As I say, times change and its now all right for archaeologists with papers to do things I was not supposed to do. I remember _________ being disturbed because we dug 16 mounds at the Klunk Site in two seasons. He said they would only have dug one mound per year, but we were out there 4 months a year while they barely put in 6 weeks a year, sometimes less, and we had the dozer to do our heavy work without hurting anything. I would never use a wheeled machine to work on a site as the wheels will sink and crush stuff 6 inches or more while a dozer track wonít hurt anything deeper than the depth of the cleats a the machines weight ids distributed over a much greater surface. This they have not learned yet. Might be material for comment in your next newsletter.
About the zerox copy of the article on potters being arrested in Arkansas - ____________ thought it might be good to put it in the Journal. What do you think. If Okay, send it on to _______, maybe it will make some guys think twice about going on private land to pot.
Got a heck of a good trade a couple days ago. A young buy in Blevins, Arkansas found a cache of unusual Caddo points in a shaft tomb when somebody removed a small mound 5 feet tall. This left an outline of the original surface of a round pit 9 feet across and deep. There was a bunch of broken pots on the floor and
(Over)
about 35 points different from others made especially for this tomb (Burials had dissolved) Anyway the guy brought the points over so I could use them to draw for Vol. 2. He also brought about 150 other points he had. One flint in the group was unusual. It had been flaked, ground and polished and made of very red heat treated novaculite. I made over the piece as it was a type that was extremely rare. Gilcrease got 4 from the Lemly collection, 3 from the area this was found in and one from Poverty Point in Louisiana. (see drawing). When he saw how much I liked it he said, do you want to trade something for it? I said sure, pick out something. He picked a small red bottle I had which was great with me as I have other bottles, but how can you get something that you only saw 4 of, and half of another. There may be a few in small collections but probably not more than a dozen all told. The red translucent novaculite makes it look like a piece of candy. I think Iíll use this one and the 4 Lemley had as a point type although they are not points but probably ornaments. Some of the others are made of ground and polished green slate. I was always curious about these things since I saw the four at Gilcrease and never thought I would ever own the perttiest one.
Sincerely,
Greg

P. S. Keep forgetting, I need ink for the stamp.
---
March 29, 1989
Dear Ray,
Havenít got much in clippings but one is interesting. Itís the one where a Cree Chief wants a relic back thats 150 years old. If he can get away with claiming this from a museum, others will try for anything of value. I figured some __________ would try conning museums sooner or later.
Not much else new. A flint knapper is so expert he is asking for $2,000 for some of his Clovis points. They are very well made but are being passed off as authentic. They are sort of a Ross County Fluted type but look all alike. Only thing, he uses all kinds of good quality local flints from various areas. Except for a very fine one he made from novaculite and heat treated it, no one can be sure if they are real or not. The only way I can tell at all is because I have seen 3 in two weeks and know his flaking techniques and he uses the same shape each time. Anytime certain points come upon the market Iím likely to have someone send some to me to check, so maybe I can pick up on them sooner than most. It only took 3 this time to start a trend, plus his high prices. I think the same guy is making Agee points and they are also as fine or finer than the real thing. He uses the best grades of novaculite.
I did the Turin point type description over 5 times before I got it to where it makes sense. This point type was found before 1960 near Turin Iowa. Then about two years later they dug another site having B.bison occidentalis, the one between the huge prehistoric bison and the modern bison. The first point was found with a burial, the next group was found with the bones of this bison. The date is 6,471 B. C. or about 8,500 years old similar to Hardins and Dovetail points. Here is a tracing of the point.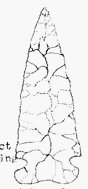 In going thru the Koster artifacts report they show two points which they donít recognize, on page 172, figs. B and C. Figure B is a dart point like the one found near the Simonsen Site in Iowa; Figure C is very close to the knife found with the burial 15 feet deep at the Turin Site. The dart point is easier to recognize as it has a regular base but the knife seems to have irregular bases slightly different from B. These are very rare in Illinois. You probably saw one or two but did not look at them closely because you didnít know they were early.
Since it occurs at Koster there should be others in western Illinois so look for them before our book comes out and they are still easy to acquire. They seem to occur more in Iowa, Minnesota, and, Nebraska, Plains states. Lots of people will mistake it for a small Osceola point. It does sort of have a Dovetial base.
A guy in San Antonio bought a Scottsbluff point thru the mail expecting to get a long but not very interesting point. Instead he got the finest Scottsbluff I ever saw and the biggest. The contours and flaking is so fine it is equal to any points made in Europe at any age and they didnít have to grind down the sides to a perfect contour, then flake over the contours, to get a perfect point. They did have to begin with a large preform then keep refining it until they got perfection. It was found many years ago and had rattled around in old cans, cigar boxes or shoe boxes acquiring a half dozen small nicks and dulled tip. It has lots of patina on it and is made of that dark central Texas flint that looks like dark Knife River flint. The patina is mottled cream to brown and beautiful. I got the nicks restored and colored so it looks great. Nobody can flake a finer point so it has to be tops.
(Over)
Here is the outline.

Flakes are small, narrow and shallow so it almost looks carved. They run more-or-less parallel across it to slightly beyond center from each side. It is perfectly lenticular in cross section, no flat spots.
We are still getting newly named point descriptions in some from collectors in Alabama who are coming up with great examples. In checking out a new, soon to be printed Virginia point guide, I noted that their Big Sandy points were Dovetail points. They had about 6. They are so rare nobody recognized them. All were made of that grainey quartzite which looks like Hixton silicified sandstone from Wisconsin but not as good to flake. I also learned that they have found a few Hardins as far away as the Carolinas but nobody seemed to recognize them. Maybe they are too scarce. Anyway this extends these points to the east coast. I donít think they have Big Sandy points in Virginia anyway, but they do have types that can range from late to early like anywhere else. They should give these points names for their area, instead, they use too many Texas and Tennessee names.
Iím running out of ink in my stamps. Any chance you might send me a small bottle and tell me how to get it into the rubber.
Did I mention the 10 Ĺ inch flint sickle I got recently from the old collection in Springfield. Supposed to be in Paynes book but I donít have one. Looks like this if you have it.

There is another one at Gilcrease from the Poverty Point Site in N. E. Louisiana. Only two I know of. They could make an interesting plate even if they are almost non-existent. And I got a ground and polished novaculite ceremonial or ornament which is a beauty. Just across the line in Arkansas. Had to trade a small bottle for it and nearly broke my arm trading it before he changed his mind.
Sincerely,
Greg
---
Back to: Letters from Greg