<![if !vml]>

<![endif]>
(up-dated 12/April/2017)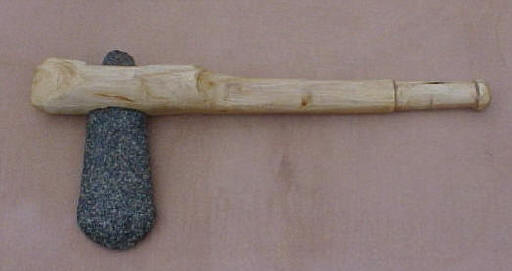 SOMETIMES, AN AXE IS JUST AN AXE

Larry using one of his celts.
Larry using a celt at the Rabbit Stick Rendesvous U-tube http://www.youtube.com/watch?v=5zObOcOdUWo&feature=related
---


These two celts were completed on December 1st, 2008. They are replicas to be used in a documentary. The darker one on the left is made from dark granite and has a dogwood handle. Stone: length 9 1/2 " (24cm) width 3 5/8" (9.1cm) thickness 1 3/4"(4.5cm) Handle: length 20 7/8" (53cm) height 3 3/8" (8.5cm) thickness 3 3/4" (9.6cm)
The one on the right is a piece of granite but with more color than the other. It has a hackberry handle. Stone: length 9 7/16" (24cm) width 3 7/8" (10cm) thickness 2" (5cm) Handle: length 23 3/8" (59.4cm) height 3 1/2" (9cm) thickness 3" (7.6cm)
---

(Photos by David Cox, Click photos to enlarge)

Larry's axe demo at Rabbit Stick '03
---
This celt was finished November 7th, 2008. It's made of basalt and has a hackberry handle.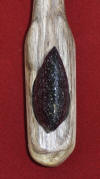 This is a close-up of the cutting edge. Also, note the crease.
---
This basalt celt was finished November 8th, 2008 and is mounted in a dogwood handle.
---

Rabbit Stick "06
Larry uses "Big Mama" on a mountain poplar log at Rabbit Stick '06. The handle broke so it's back to the drawing board.
---





(Photos by Tom and Merry O'Brien)
Rabbit Stick 2007. The handle breaks again. The shorter handle gives more control. So, it's off to make a stronger, shorter handle.

Here are some of the axes, celts, and other ground stone tools, or stone tools, Larry has made and used over the last 20 years.
If you're looking for stone celts, stone axes, groundstone axes, or groundstone celts, made from granite, diorite, greenstone, or quartzite, you should find this site interesting.
Ground stone axes and celts are made by pecking and grinding. A fine-grained granite, greenstone, basalt, or diorite is battered with a flint hammer until it is worked into a rough shape. This is rough work and requires a lot of persistence and time. The work is especially hard on muscles and elbows. Larry's axes and celts take from 4 to 25 hours to make, depending on size and material. After the axe, ground stone tool, or celt is pecked into shape, it must be sharpened on a sandstone slab. This may take minutes to hours. When completed, it will serve as an effective wood-working tool for a very long time. Following, are some ground stone axes and celts. To see Larry's newest ground stone celt in the process of being made, go to EXPERIMENT IN PROGRESS.
wedding anniversary, March 31st, 2007.
This celt was finished in mid-January 2008. It was an attempt to replicate a celt found in Mississippi.